Taking the Plunge for Jazz
Lucas Hausler participates in 12th Annual PolaRotary Bear Plunge February 1 to raise funds for Blue Jay Jazz
For the Southern California mountain communities around Lake Arrowhead, Groundhog Day and its shadowy predictions of winter's arrival comes a day after Polar Bear Day, when brave souls take a frigid dip in the lake to raise money for the area's non-profit organizations.
It's the Rotary Club of Lake Arrowhead's 12th Annual "PolaRotary Plunge" on February 1, 2020, and this year one of the "Polar Bear Plungers" has designated the Blue Jay Jazz Foundation to receive half the sponsorship funds he raises. The other half will go to the Rotary Club.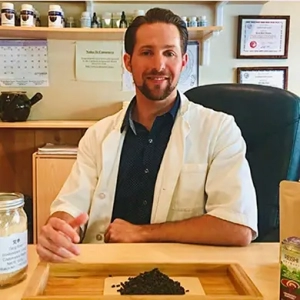 This warmhearted supporter is Lucas Hausler, a Doctor of Acupuncture and Chinese Medicine (DACM) whose practice is in Cedar Glen's Lake Arrowhead Acupuncture & Holistic Health.
To support Lucas' efforts on behalf of Blue Jay Jazz, you can send a donation in any amount, payable to Lake Arrowhead Rotary Foundation, to P.O. Box 686, Lake Arrowhead, CA 92352. Be sure to write the plunger's name (Lucas Hausler) on the check's memo line to indicate for whom your sponsorship is made.
Hausler and his wife Panha are beginning their second year living in Lake Arrowhead and diving into mountain life as they settle in to start their family: They are expecting their first child in 2020. One of the first community events they participated in was the 2019 Blue Jay Jazz Festival.
"We were especially impressed with the young jazz students who spoke about how deep an impact the Jazz Foundation has had in supporting their growth, and how much appreciation they have for the gift that music has been in shaping their lives," he said.
"I think the work of the BJJF is critically important to make sure music education stays funded and young people are exposed to the music and cultural heritage that lives through jazz," he added. "Music has always played an important role in my life. I recognize how powerful a force music is in shaping our experiences towards more joy and connection. Both as a means to bring people together, and on an individual level to uplift our spirits and empower us to transform our lives."
Hausler said he has already had a few cold plunge experiences. Living in San Diego, he trained in the Japanese art of Aikido and practiced Hatsumode, the New Year's Day purification by jumping in the ocean.
"It's always a humbling experience," he added. "And cleansing for the mind, body, and spirit. I'm honored to join this year's cold lake plunge with the extra intention to help the BJJF raise funds for the important work they do here in the community."
Helping, Healing Hands
Hausler's expertise includes herbal medicine, and acupuncture for pain, musculoskeletal injury, and orthopedics. As well as acupuncture and herbal medicine for longevity and treatment of internal conditions, including digestive, respiratory, men's and woman's issues, peripheral nervous system disorders, and chronic inflammatory conditions.
Initially training in martial arts, qigong, and tuina massage in New York, he began his formal training in the Master's of Science in Traditional Oriental Medicine (MSTOM) program at Pacific College's Manhattan campus. In San Diego he was licensed under the California State Board of Acupuncture in 2008, before completing his DACM degree at San Diego's Pacific College of Oriental Medicine. He is also a nationally recognized Diplomate of Oriental Medicine (NCCAOM-certified), and a Diplomate of Canonical Chinese Medicine (ICEAM certified herbalist).
Hausler began his acupuncture career working with athletes, from professionals to weekend warriors, at San Diego's Acusport Health Center, and collegiate athletes at UC San Diego's RIMAC center.
In order to deepen his knowledge of internal medicine, he moved to Taiwan for a year of clinical apprenticeship training, returning to San Diego to open a TCM family medicine practice for the next eight years, while continuing his education with yearly trips to clinics and hospitals in Taipei, Kunming, Beijing, and Nanjing to further develop his clinical skills.
Be sure to join us to cheer Lucas on at this winter version of 'Takin' it Lakeside,' on Saturday, February 1 at the Lake Arrowhead Resort and Spa, beginning at 10 a.m.
Photos Some of the 2019 PolaRotary Bear Plungers, top (photo courtesy of the Rotary Club of Lake Arrowhead); and Lucas Hausler in his Cedar Glen office (inset)