Among the education programs Blue Jay Jazz Foundation administers each year are the annual jazz education scholarships for graduating high school students in the San Bernardino Mountain communities. Launched in 2008, immediately after the Blue Jay Jazz Foundation was established as a non-profit educational institution, these scholarships – along with grants and music internships – have helped to inspire community young people through their high school years and make the jump to enroll in colleges and universities around the country.
Since 2008, Blue Jay Jazz has provided tens of thousands of dollars in scholarships so support and encourage committed student musicians.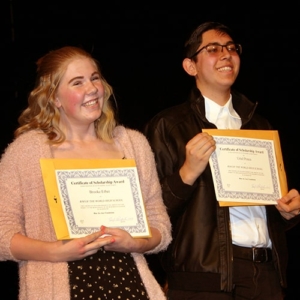 Beginning in 2016, the Lake Arrowhead Rotary Club began partnering in the scholarship program, contributing $500 annually to inspiring aspiring 'young jazz lions' develop imaginative thinking, creativity, curiosity, a positive self image, and a respect for their and others' cultural heritage.
In recent years, school music programs have been gutted by budget cuts. The result? Many of our schools can't provide instruments to their music students. A study at the University of Kansas revealed that students with superior music education programs scored around 22 percent higher in English and 20 percent higher in math scores on standardized tests. Our students deserve to expand their potential for creativity, discipline, and academic achievement.
In spite of the challenges, our music programs are finding ways to thrive. Interest is at an all-time high, but acquiring instruments and sheet music for all the interested students has become very difficult.
SCHOLARSHIP RECIPIENTS
2008 – Olivia Clark
2009 – Andrew Jones, Justin Jones, Erik Davies, Ryan Jones
2010 – Chasing Kings (Matt Schwartz, Drew Beck, Nick Sandler and Mike Goldman)
2011 – Josh Phillips, David Velasco
2012 – Jeannine Robertson, Kelly Gates
2013 – Karen Bogart
2014 – Something Jazzy Rim High Jazz Band (Breanna Baltaxe Admony, Jeff Gumpertz)
2015 – Nick Maltas, Blaze Peterson, Cameron Harris, Evan Kraskin, Alexander Richardson, Sierra Dunn
2016 – Fernando Helguera, Tyler Halcomb
2017 – Rachel Stallings, Rei Thielbar
2018 – Gavin Harris, Joshua, Maninez, Madeline Zweber
2019 – Brooke Erber, Uriel Ponce, Ryan Whitty
2020 – Logan Arrowood, Walker De Vries, Karen Salazar, Margie Whitten
2021 – William Rubio, Veronica Young, Jonathan Angel
2022 – Ara Tokatlian, Alexander DeLeon, Evangeline DeLeon, Luca Stickney,
Parker Lawrence (Inaugural Gloria Loring Award for Vocal Achievement)
2023 – Martina Urrutia, David Anderson, Dylan Witter, Chris Whitty,
Ara Tokatlian (Gloria Loring Award for Vocal Achievement).