The Blue Jay Jazz Foundation education programs provide annual jazz education scholarships, awards, instrument lending and live performance opportunities for students and other young people in the San Bernardino Mountain communities. The Blue Jay Jazz programs encourage both school participation and practice at home. We can provide parents and guardians with a partner to support their child's overall development through an understanding of musical performance, theory, and discipline – all while facilitating the sharing of quality time together.
In recent years, school music programs have been gutted by budget cuts. The result has been that many schools are unable to provide enough instruments for all the students who want to learn music. The value of a music education goes far beyond the music itself. A study at the University of Kansas revealed that students with superior music education programs scored around 22 percent higher in English and 20 percent higher in math scores on standardized tests. These efforts help those young people who choose to, expand their potential for creativity, discipline, and academic achievement.
Music education programs and scholarship support are providing hands-on experiences for music students while helping secure a vibrant future for jazz and creativity in general.
In spite of the challenges, our music programs are finding ways to thrive. Interest is at an all-time high, but acquiring instruments and sheet music for all the interested students has become very difficult.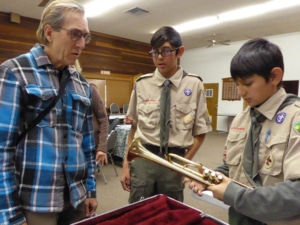 Launched in 2007 with the establishment of Blue Jay Jazz Foundation as a non-profit educational institution, these programs taken together have been making a substantial impact in the lives of families for more than a
decade. The scholarship program, for instance, has now awarded over 30 grants with another ten accompanying grants from the Lake Arrowhead Rotary Club. These total nearly $40,000 total.
Students need to have an instrument – preferably one they are excited about – in order to learn how to play. The amount of time required to really gain the mechanical skills and meet the physical demands of an instrument is difficult to find these days, with so many activities vying for a student's time. All the more reason that he or she has access to an instrument of their choice. That is why the Foundation has its two-pronged instrument program: we solicit used instruments from community members as well as donated instruments from manufacturers and retailers and we also distribute instruments out of our own inventory to students who demonstrate the greatest desire and need.
The Foundation organizes Master Classes and clinics to collegiate and high school music students, at Rim of the World High School (RHS) and other locations. These may be provided by musicians who then perform with student orchestras at the Blue Jay Jazz Festival, or come during the rest of the year.