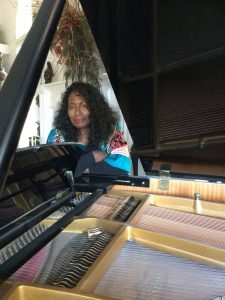 President's Message
Chris Levister
Blue Jay Jazz Foundation - President
GRAND REOPENING
Blue Jay Jazz Festival
August 26-27, 2021
Cuing up his Gibson Super 400 flat top guitar, during the 2003 Blue Jay Jazz Festival, legendary guitarist Kenny Burrell offered me the best piece of jazz advice that I have ever received. It wasn't about applying his be-bop chops to some well known blues changes or even the complex makings of a jazz master. It was a ritual: Cue up a fresh cup of "Midnight Blue", his 1963 blues masterpiece, first thing in the morning and feel your brain explode with possibilities, shaking itself loose, decisive, shifting priorities as the current moment demands. On mornings when I remember to take that advice, I am reminded that life is fragile, but bursting with possibilities.
The devastating Coronavirus 19 pandemic is an especially graphic reminder that so much of what we take for granted — our sense of normalcy — isn't necessarily normal at all. It also reminds us that returning to the new normal requires believing in the 'possible' through courage and the vision to see these days through safely.
That's why we at Blue Jay Jazz have turned to what we do best….live music, jazz music done well while keeping the safety of our guests paramount.
With more of the U.S. population now fully vaccinated against COVID-19, and predictions that a majority will be vaccinated by late summer, the future of live jazz concerts—and the communities that have formed around them—is bright and itching for a break free celebration.
The Blue Jay Jazz Foundation is proud to announce JAZZ REOPENING - Blue Jay Jazz returns to Lake Arrowhead's spectacular Tavern Bay for two nights of live jazz August 26-27, 2021.
Make sure you and your jazz-loving friends follow our official social channels and be the first to know the plans for this year's festival. This year was a turbulent one, but we're proud to keep the tradition alive! We strive to keep our community vibrant and foster the next generation of musical excellence.
Support BJJF today.
We know times are challenging, and we are grateful to each of you for sticking by us. We believe that festivals in general, and the Blue Jay Jazz Festival specifically, are an incredible gathering of community around amazing music - it brings joy to our lives, and solace to our souls. We ask you to consider supporting the Blue Jay Jazz Foundation today with a donation – so we can bring live music to you now and for years to come.
Keep swinging!
Chris Levister
President
Blue Jay Jazz Foundation
Blue Jay Jazz Foundation • P.O. Box 3334, Blue Jay, CA 92317 • info@bluejayjazz.org
501c3 • Federal ID/EIN # 20-4934987
BLUE JAY JAZZ
2021 FESTIVAL
ACKNOWLEDGMENTS
Bill & Dinah Ruch Family Foundation
Lynne B. Wilson & Associates – Realtors
Jensen's Finest Foods
Woman's Club of Lake Arrowhead
Lake Arrowhead Communities Chamber of Commerce
Neu-Art Studio
Arrowhead Professional Partners
Music & Arts Center
Wheeler Steffen Sotheby's International Realty
Ed & Midge Reisman
Richard Nevins, Esq.
Four Seasons Garden Center
The Mountain News
Prime Properties
Arrowhead Lake Association
The Alpine Mountaineer
BSA Troop 2019, BSA Troop 251
UCLA Bruin Woods
L.A. Jazz Society
California Baptist University Collinsworth School of Music
Rim of the World Education Foundation
Laura Litton MacFarlane
Keri Stebbing
Lulu's Bakery & Coffee House
Jeff Grotewold