We lead off the '2020 Performer Profiles Project' with the The Tierney Sutton Band, who top the year in top form with two shows this weekend at Catalina's in Hollywood. The band performs at 8:30 p.m. on Friday, January 3 and Saturday, January 4. To purchase tickets click here.
A TSB concert offers the best of both worlds for Southern California music lovers: a vocalist with the instrument and artistry to give lyrics new life and musicians who have work together – almost exclusively – for more two decades to create a jazz force in its own right. The five members are vocalist Tierney Sutton, pianist Christian Jacob, bassists Kevin Axt and Trey Henry, and drummer Ray Brinker.
Stage and 'ScreenPlay'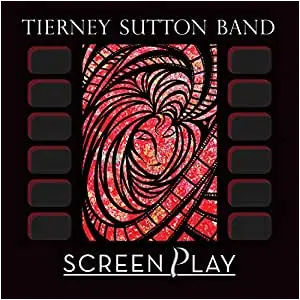 Tierney has said these Catalina's concerts will celebrate the band's current Grammy Award-nomination for 2019's ScreenPlay. It marks the ninth consecutive nomination for every project they have released during the past decade. Eight have been for "Best Jazz Vocal Album," with one for the band's collaborative arranging.
ScreenPlay is "a project in five acts spanning a century of American film music." Several tracks comprise the acts, which in sequence are "The Bergman Suite," "Technicolor," "Golden Age," and "Montage," with the fifth dedicated to the band's work on Clint Eastwood's Sully. Among the project's 19 songs are the title track of On a Clear Day You Can See Forever, a couple from Grease, the Scarecrow's upbeat lament from The Wizard of Oz, Paul Simon's "The Sound of Silence" from The Graduate and many other classics.
As Dan Bilawsky wrote in his All About Jazz review, " With ScreenPlay this long-running group adopts and adapts material from the silver screen, creating high art that's spellbinding and eminently listenable."
Omaha-born and Milwaukee-raised, Sutton attended Wesleyan University. By that time she was already a Baha'i, having discovered the faith at 18, and her pursuit of a bachelor's degree in Russian was motivated by a greater sense of purpose.
"I thought I would be able to serve humanity with it," she told a reporter in 2009. Before she could apply her linguistics, she discovered jazz and upon graduation was pursuing lyricists as a student of jazz at Berklee College of Music. She would move to Los Angeles and in 1998, with these same musicians she performs with in L.A. this weekend, release her debut album, Introducing Tierney Sutton.
Discover the band's complete discography.
In addition to the best of both worlds – lyrical consciousness and musical invention – a TSB concert has that deeper underpinning that. As they did with On the Other Side, a personal favorite, they seek interpretations that can – while not distracting from the fun and beauty – resonate in other ways.
This weekend's concerts are opportunities to enjoy jazz in which popular song is art. Culture has largely marginalized art that awakens in favor of entertainment that assures.
"There are deep prejudices in our society about the usefulness of artists," Tierney has said.
The Tierney Sutton Band is a particularly good group to share the first week of a new year and decade. At their concerts we, again, get the best of both worlds: art that entertains.
The Great Amended Songbook
Beyond the innovation and invocations, the TSB is expanding its "book" by expanding the "The Great American Songbook," Tierney and Company have been doing their best to add new chapters to the musical compendium by devoting albums to modern singer-songwriters: Sting, in 2016's The Sting Variations and in 2013 with the Joni Mitchell tribute After Blue. (View a video of the band performing Sting's 'Fragile/The Gentle Rain,' below story)
I spoke with Tierney just before her Other Side release. Six years before the After Blue recording we talked about contemporary composers who might be looped into the "Songbook" and she brought up Mitchell.
"Joni Mitchell is a genius," she said in that interview. "I love Joni Mitchell and there may come a time when I can figure something honorable to do with something she does."
And so she did … and did again with Sting … and now is doing with film composers. And, she does it with many great songs like Softly, as in a Morning Sunrise.
This weekend, she'll get the new year started by doing it for us.
Photos The Tierney Sutton Band's Christian Jacob, Kevin Axt, Sutton, and Ray Brinker. Absent bassist Trey Henry