Long Distance Improvisation
Rim High's music room is empty as the 2020-21 school year begins online, and a call for instrument donations seeks to keep music programs virtually intact.
At the end of her first year as Rim of the World High School music director, Kari Bush was improvising. As a saxophonist, she had long been comfortable playing improvisational jazz and as a young instructor she was already comfortable teaching it. But as the 2019-2020 school rounded into the homestretch, she along with teachers around the world were suddenly vamping to get their curricula online for students to access from home.
She managed.
On August 12, because of the coronavirus, Bush began her second year overseeing Rim's entire music program just as she ended her first: teaching Choir, Advanced Choir, Concert Band, Wind Ensemble, Jazz Band and Marching Band online to students in isolation.
"I think the biggest challenge we're going to have across all performing arts is just motivation for students," she said. "They might be in households with babies or a lot of siblings or with older people who take naps during the day. So they have distractions on one hand or the need to be quiet when they should be practicing or playing with other students in online classes."
She knows from experience as a saxophone player that having a loud instrument can get on peoples' nerves and "that can be a really big motivation killer for a lot of our students."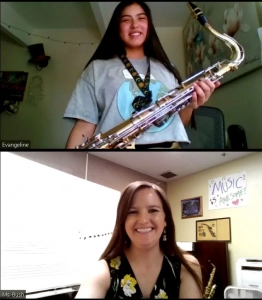 "So to keep them interested in playing the music that I give them and keep them interested in playing jazz is going to be a struggle just because of the atmosphere that they're in at home," she added.
Of course, they have to get online. Rim High is a Title One school, which means that a lot of its students are from families with limited funds. According to Bush, the district is doing what it can to provide the technology.
"So we're doing fine now," she said. "I think by September we'll have a better idea of how well the students are able to do participate."
Getting Instruments to Students
The Blue Jay Jazz Foundation has been helping provide instruments to mountain students every year since it became a non-profit 503c organization in 2007. The instrument lending program, "Give an Instrument, Inspire a Musician," includes soliciting unused instruments from community members, retailers and manufacturers, refurbishing or just cleaning them as needed, and then having them available to loan to local schools as instructors like Bush request them.
This year, Evangeline De Leon became the latest to have a freshly serviced tenor saxophone, just in time to begin practicing at home and joining in the online classroom sessions.
Has the lockdown impacted getting instruments into the hands of students?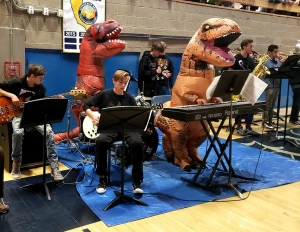 "It is a little harder, but not impossible" Bush said. "The school is doing a COVID cleaning and maintenance on those instruments I anticipate the students will need this year: so many flutes, so many clarinets, and so forth. We're on schedule to have the cleaning crew come in, get them repaired and then I can set a date to get those instruments to the students. Under normal conditions students would be able to take that instrument home on the first day. Now we have a few weeks of delay because of the cleaning.
"Other than that," she continued, "they'll be able to borrow instruments from the inventory that I have here at the school and of course from Blue Jay Jazz if I don't quite have enough instruments in functioning condition."
On the first day of classes, students filled out the usual forms including whether or not they would need to borrow a school instrument.
"Once I have that logged in I'll check the list to compare it to the list that I have for the cleaning crew," she said.
Each year the Rim music program has a budget with funds set aside to be used for instrument repairs. Usually that is available throughout the school year so that repairs can be ordered promptly if something happens to an instrument.
"This year," said Bush, "because my entire budget has gone to the COVID cleaning, I won't be able to do any repairs if anything goes wrong with one of the student instruments."
Calling on the community for support
To help Bush and the other music teachers and programs on the mountain, on September 2 the Tudor House in Lake Arrowhead turns its ongoing Wednesday evening jazz night into "Celebrating Music, Supporting Local Schools."
Proceeds from the event, which begins at 6 p.m. with dinner and live music, will help kick off BJJF's 2020-21 school year support, including collecting unused instruments from community members as part of the "Give an Instrument, Inspire a Musician" lending program. Any guest at the September 2 event who brings a band instrument, with case, in workable condition (no guitars or other stringed instruments) will get in free. Additional cash donations will also be accepted. Everyone who contributes an instrument or cash will receive a donation receipt for tax deduction purposes.
"In addition to collecting instruments for our lending program we are encouraging financial donations to the BJJF Education Fund this fall that can go directly to helping replenish Rim's own repair fund," said Dr. Hugh Bialecki, BJJF Vice President. "And this event is just the kick-off. We will continue to accept instruments throughout the school year."
For more information on the event, click here.
Photos: (top) The Rim High School Jazz Band performs in a high school competition in February 2020; (first inset) Evangeline De Leon, left, who is borrowing a tenor saxophone from Blue Jay Jazz for the 2020-21 school year, has an online meeting with Rim High School Music Director Kari Bush; (second inset) Happier times a year ago when the Jazz Band could play an October concert with a Halloween costume theme.