AT THE TUDOR HOUSE | September 2, 2020
Celebrating Music, Supporting Local Schools
On September 2, the Tudor House in Lake Arrowhead will host a special Wednesday evening jazz event in collaboration with the Blue Jay Jazz Foundation (BJJF), a non-profit arts and education organization serving communities in Southern California's San Bernardino Mountains.
The event, "Celebrating Music, Supporting Local Schools," begins at 6 p.m. with dinner and live music. Held on the large Tudor House patio, the event will be COVID-19 compliant in accordance with social distancing guidelines. There is a $25 cover charge, with hot food and drinks available for purchase. Guests can bring wine and pay a corkage fee, but no food can be brought to the event.
Due to social distancing requirements, seating will be strictly limited and reservations are required. Reservations can be made by email to info@bluejayjazz.org or by phone to (909) 336-7504.
Proceeds from the event will help kick off BJJF's 2020-21 school year support. This includes its "Give an Instrument, Inspire a Musician" lending program, sponsorship of master classes, and student scholarships. Any guest who brings a band instrument, with case, in workable condition (no guitars or other stringed instruments) will get in free. Additional cash donations will also be accepted. Everyone who contributes an instrument or cash will receive a donation receipt for tax deduction purposes.
"The Tudor House has been keeping the hills alive with the sound of music thanks to Bruce Rubio and his Speakeasy Band," said John Connor, owner of The Tudor House. "They've allowed us to provide our community with a safe, outdoor, socially distant environment in which to have dinner and listen to live jazz. On September 2, working with the mountain's leading jazz organization, we will use this successful format to support our community's schools and music program."
For this special evening, Nick Maltas and Cameron Harris, both past Blue Jay Jazz scholarship recipients who went on to become working musicians, will be onstage. Maltas, who plays saxophone, will sit in with the band for a couple of songs while Harris will open the evening with a solo acoustic guitar set.
The Speakeasy Band will include Rubio on saxophones, flute, and percussion; Tom Fernandes, guitar; Will Lyle, bass; and David Hitchings on drums. Guest performers, in addition to Maltas and Harris, will be vocalist Julie Kelly and keyboardist Bradley Young.
Rubio, a former music teacher at MPH Middle School, who taught Maltas in grade school, said, "Since the pandemic began, the music has been able to continue under the guidelines of the state and county. And because a lot of top musicians are not able to be out playing on the road, they have been available to perform with us. I don't know of any other place in Southern California that in the past year has had the jazz that's gone on in here at the Tudor House."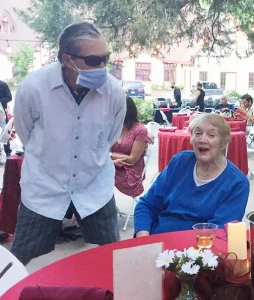 "The upheaval caused by the pandemic has had a special impact on schools and especially on music programs that rely on the collective experience of performance," said Chris Levister, Blue Jay Jazz Foundation President. "And, while students can learn a lot on computers, they still need an actual musical instrument to practice at home."
Kari Bush, Rim of the World High School's Music Director, said that teaching all her classes online – choir, advanced choir, orchestra, jazz band and marching band – will be more difficult this term, "but not impossible."
"Because of the pandemic," she said, "the school is doing a COVID cleaning in addition to maintenance on every instrument the students are likely to need this year, which delayed handing them out. This necessary cleaning, however, has used my entire year's budget and I won't be able to do any repairs if anything goes wrong with any of the students' instruments."
"This is why, in addition to collecting instruments for our lending program we are encouraging financial donations to the BJJF Education Fund this fall that can go directly to helping replenish Rim's own repair fund," said Dr. Hugh Bialecki, BJJF Vice President. "And this event is just the kick-off. We will continue to accept instruments throughout the school year."
Lori Semeniuk added, "This is an important opportunity for those who love jazz to not only come together and enjoy it, but to ensure its future in our community with instruments and financial support that keep our future generations participating."
In addition to Dr. Bialecki, Levister and Semeniuk, the Foundation Board of Directors includes Wayne Austin, Dr. Ernest Levister, Dan Parker, and Gina Richardson.
The Tudor House is located at 800 Arrowhead Villa Road in Lake Arrowhead. For more information on the Tudor House visit tudorhouseentertainment.villas.
For more information visit bluejayjazz.org.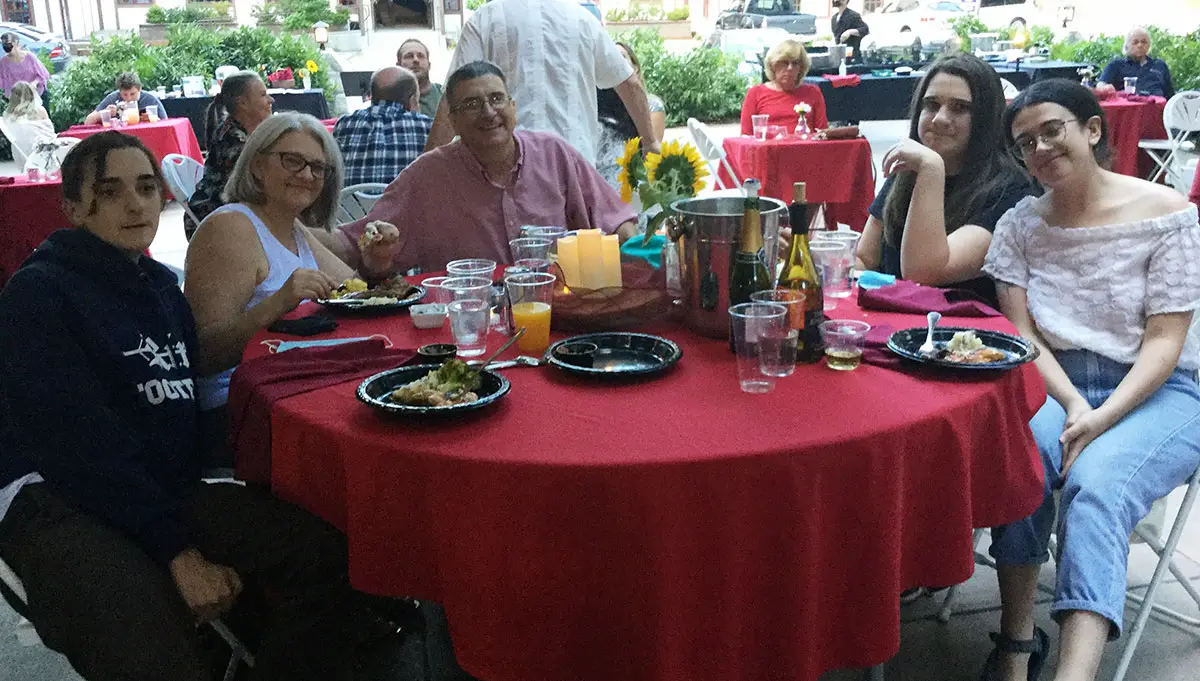 Photos: Top, Members of the Blue Jay Jazz Foundation at the Tudor House with John Connor and musicians on August 12, 2020: (left to right) BJJF's Lori Semeniuk and Hugh Bialecki; Connor; vocalist April Sweeney; Saxophonist and Speakeasy Bandleader Bruce Rubio; bassist Will Lyle; and keyboardist Bradley Young. Drummer David Hitchings is slightly visible behind Rubio; Inset, Dr. Bialecki (left) visits with Foundation supporter Gloria Anderson; and Above, the Barone Family – (left to right): Virgil, Karen, Vaughn, Quentin and Olivia – enjoy the August 12 Tudor House dinner. (Photos by Chris Levister)