Olivia Clark – Future Generation Jazz Scholarship winner 2008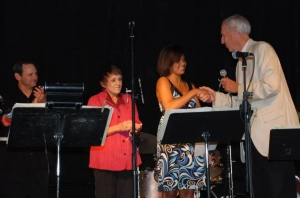 Olivia Clark
I was the first Blue Jay Jazz Foundation Future Generation Jazz Scholarship recipient in 2008. I never dreamed the my love of music making would become a precious source of inspiration during this time of global uncertainty.
I know that it is a difficult world with COVID-19 restricting a lot of what we are accustomed to. I can say firsthand that not being able to perform as I'd like to has been tough. My love of music making and performance has kept me feeling hopeful.
As an 8th grader, I performed at the historic 2008 Blue Jay Jazz Festival alongside world class musicians, and have since had the opportunity to be exposed to all of the possibilities within music.
My first memories of singing were at age five. My father was a gospel singer. Other family members including aunts and uncles were musicians. My home was always filled with music.
The Blue Jay Jazz scholarship and live performance was a gift that keeps on giving. It helped motivate me to continue my education in music after high school. The performance experiences I had helped give me confidence to pursue my passions.
Following graduation from Rim High, I attended Cal State University San Bernardino where I graduated with a degree in music performance and composition. My early college studies focused on classical, opera and theater performance. I played the role of Norina Donizetti in the Italian opera Don Pasquale.
I've composed and released three original songs on Spotify and posted a YouTube video entitled LaLaLand (under Olivia Michelle). I am currently enrolled in a master's program in Psychology at Antioch University in Los Angeles. I am working on my first CD set for release in 2021 or early 2022.
I love how I get to sing to people and make them happy. I'm really blessed that I get to do this. It makes me feel amazing, like I'm touching somebody's life.
I know that it is a difficult world with COVID-19 restricting a lot of what we are accustomed to.  My focus has been finding ways to still do what I love, and encourage others to be resilient. Writing songs, holding rehearsals on Zoom with musician friends, and appreciating this time with family has helped me tremendously.
My best advice is to stay focused on your dreams, whether its music, physics, healing the sick, or building a house. Do what you love. Out of adversity comes opportunity. It's a hard time but we all have to keep singing!