2017 Future Generation Scholarships
Rotary Club and the Jazz Foundation spotlight four local students
The Blue Jay Jazz Foundation and the Rotary Club of Lake Arrowhead teamed up to support local students and their music interests.
At the Rotary Club of Lake Arrowhead's May 30 meeting, it showcased its Scholarship Initiative partnership with the Blue Jay Jazz Foundation, by inviting Rim of the World High School Seniors Sarah Bare and Jesse Sonntag Garcia to share their talents as part of a presentation about the Foundation's work providing educational opportunities for students at Rim of the World High School, which the Rotary Club generously supports.
Bare sang "Beyond My Wildest Dreams" from The Little Mermaid. Her scholarship will help her pursue Musical Theater at CSUSB this Fall. Garcia performed "Tango" on the violin.
In June, the Blue Jay Jazz Foundation announced that it would award its 2017 Future Generation Jazz Scholarships to Rachel Stallings and Rei Thielbar.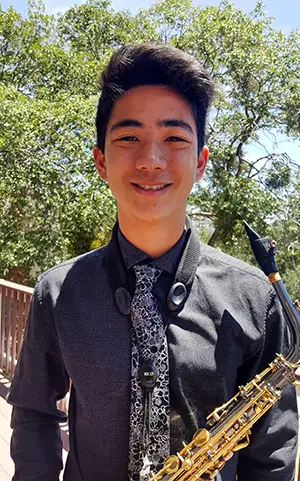 The Future Generation Jazz Scholarship program is underwritten by the Rotary Club of Lake Arrowhead and in addition to the generous financial support, the new graduates will participate in a showcase perform by the Rim High School Jazz Band at the Blue Jay Jazz Festival on August 24.
Working with Rim High School Band Director April Naim, the Foundation board of directors agreed that, based upon their musicianship, scholarship, community service and career goals, Stallings and Thielbar were excellent choices to receive this year's scholarship grants.
"Both are passionate musicians and scholars, both are active in the Rim Jazz band and marching band, and they have each performed at numerous Blue Jay Jazz events in the past.
In March, Ms. Stallings worked with the Blue Jay Jazz Foundation and the Tudor House to organize a fund raising event to help get the jazz band to an invited performance at Disneyland last month.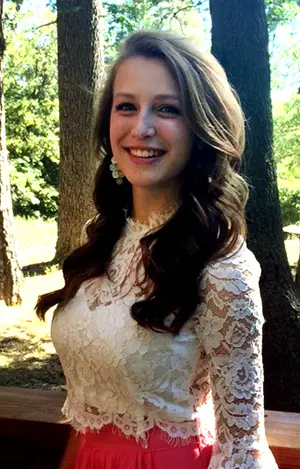 At the time, Stallings told us that, "Rei is an alto saxophonist, and he and I have been accepted to music programs. He is going to UC Irvine, and I'll be attending Beaumont University in Nashville, where I got accepted as a music therapy major on percussion. A few others in the jazz band are looking at minors in music."
Stallings has been a part of almost all of the music department ensembles at Rim High, including Marching Band, Jazz Band, Wind Ensemble, Orchestra, and has even been a part of the Musical Theatre Department!
Thielbar, who has been in the music program for eight years, will double major in computer science and jazz performance at UCI. He told us how excited he is about studying music with the university's professor Kei Akagi and "to explore the many varying aspects of music."
Recently Stallings told us that she is so thankful for all the support she has received from Blue Jay Jazz as well as the Arrowhead Arts Association. The scholarships she has received will help fund four years at her "dream college" and further her love for music and people.
Drum roll please.
Photos: (top) Russell Bell, right, President of the Rotary Club of Lake Arrowhead, welcomed (from left) Rim High School Seniors Jesse Sonntag Garcia and Sarah Bare, and Blue Jay Jazz Foundation directors Chris Levister and Hugh Bialeck to the Rotary Club's May 30 meeting, where Garcia and Bare performed. Also pictured are Scholarship recipients Rei Thielbar (first inset) and Rachel Stallings.