2018 Future Generation Scholarships
Gavin Harris, Joshua Mainez and Madeline Zweber Receive Awards
On May 29, 2018, the Blue Jay Jazz Foundation (BJJF) and Rotary Club of Lake Arrowhead presented scholarships to three Rim of the World High School Seniors during Seniors Scholarship Night. The awards were given to Gavin Harris, Joshua Mainez, and Madeline Zweber as part of the BJJF's music education programs which include the 'Adopt an Instrument', free lending library, and Future Generation Music Scholarship.
Representing the Blue Jay Jazz Foundation board were Dr. Hugh Bialecki and Board President Chris Levister. Jack Winston was on hand to hand out the scholarships for the Rotary Club of Lake Arrowhead.
Each recipient was asked to write something about him- or herself and the part music plays in their studies and life. Here is what they each wrote.
Gavin Harris began playing trumpet in the 4th grade, picked up piano in 6th grade, and then the trombone and euphonium as a high school freshman.
He writes, "While academically I've always been focused on mathematics and science, music has made a profound impact on my life. On normal days, I play for at least an hour, and on bad or stressful days, I play for several. The catharsis behind performing music has developed into a personal need for me. As of now, my most influential instrument is the piano. It allows the player to encompass at least seven octaves and to perform as a soloist, but sound like a band. With the piano, I can filter my thoughts through the intensive sixteenth-sextuplet runs of Fantasie Impromptu or the gentle chords of Comptine D'un Autre E'te – l'apres midi.
"As I entered the 11th grade," he continues, "I began learning an arrangement of Hans Zimmer's eight-minute music score First Step from the movie Interstellar – at the time the most complex piece that I had learned. It took me weeks between learning parts and movements, not because it was difficult, but because I only learned them when I was under emotional duress, which I had an ample amount of. I would speculate that without this method of relieving my stress, I would have struggled much more in high school.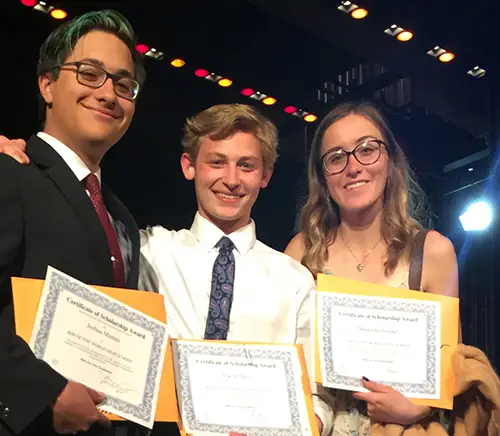 "I began learning jazz as well. Every song has some amount of grey area where the player determines the way the music is played, and jazz allowed me to exploit this more. The transitions, movements, and overall musical alterations in the piece allow the player to elicit their emotions into performance of a piece. I also engage in condensing and arranging compositions solely on a piano that were intended for full ensemble, which challenges me to analyze what is essential to each piece and what is dispensable, in an effort to delineate the true emotional purpose. Jazz only accentuates this.
"Now as I enter my adult life," he says in conclusion, "my academics lie within the provinces of mathematics and science, yet my personality and my composure will always find space to encompass and integrate the stimulating works of Chopin and Hanz Zimmer."
Joshua Mainez submitted the following profile:
"I'm 17 and a senior at RIM of the World High school. I have lived on this mountain my whole life with my brother, my mom, and my dad. Growing up in a community such as Lake Arrowhead has allowed me to become very close with a lot of people, most of which are in the music program.
"I have been in the music program since I was eleven-years-old and music is my passion that I hope to continue for the rest of my life. I am a hard worker and dedicated to the work that I put forth to music. I wrote a composition piece for RIM's wind ensemble and orchestra programs as well as taught and conducted the piece, with the help of Ms. Naim of course. For my career path I plan to be a film composer, as writing music is what brings me joy. If I had a bad day, writing and/or playing something music related instantaneously brightens it. It is a passion that I wish to continue to pursue and prosper in because it is the one thing I believe I am good at, however it is not the only reason. During my time at RIM of the World High School I took an initiative to start a brass band with a few friends to demonstrate to the community the true power that music radiates. It is much more than notes on a page, to me it's a lifestyle, and in a way, a sixth sense; a completely new perception that only music could give someone. That is why I want to share it with those who do not have a musical talent, as I want them to feel that impactful sensation that I feel whenever I pick up an instrument. I want to share the power of music to the world, and by doing so, I can make the world a little bit better for tomorrow."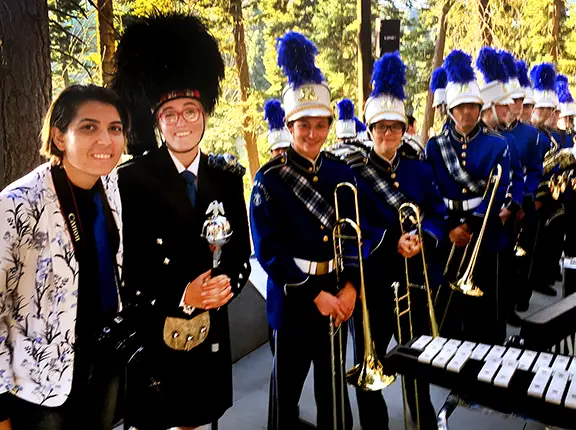 Madeline Zweber will look familiar to those who attended last year's Jazz Festival or read the follow-up stories. She was Drum Major for the Marching Band that kicked off the third and final 2017 Concert.
Now Madeline is a part of the graduating class of 2018 and is very excited to be moving on to college life. She has dedicated most of her time in high school to music classes and extracurriculars such as Jazz Band, Marching Band, Wind Ensemble, and Advanced Choir. She has made music a top priority and owes most of her high school success to her music courses. In addition to Drum Major, Madeline has received titles of section leader, Vice President, and more as a trumpet player as well as a vocalist. Madeline Zweber is so thankful for all that the gift of music has given her.
"As a music student," she writes, "life can get pretty crazy with performances and deadlines as well as festivals and obligations, but it's something I wouldn't change for the world. Music is something that has changed my life in ways that I had no idea were possible. It gave me a way to express myself and furthered my academic performance bounds beyond what I believed I was capable of. I found that as a music student, my focus is higher and I have better comprehension levels in any subjects that I find myself in. It has also provided me with opportunities to further careers and get in touch with people who I would have never known if it weren't for my music courses. I owe so much to music because it truly has changed my life for the better. It has given me leadership qualities, social skills, responsibility, and a chance to show emotion. I really have given my all to music and it's something I feel has kept on giving to me, no matter what the circumstances are."
Congratulations to all three 2018 Scholarship Recipients. We look forward to following your progress and sharing your success in music and other endeavors with our Blue Jay Jazz family.
Photos: (top) Dr. Hugh Bialecki, Chris Levister, Joshua Mainez, Madeline Zweber, Gavin Harris, and Rotary's Jack Winston; (center) The Rim High marching band at the 2017 Blue Jay Jazz Festival; (bottom) Drum Major Madeline, with Rim's Music Director, at the 2017 Festival.