Gloria Loring Tribute – A Legacy of Goodwill
A CELEBRATION OF GOODWILL:
Blue Jay Jazz Foundation honors Gloria Loring for legacy of music advocacy and education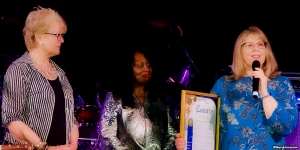 A sold-out crowd of Blue Jay Jazz Festival fans gathered at ALA's Tavern Bay Beach Club in Lake Arrowhead on Friday, August 27 under bright sunny skies as a sprawling cast of singers, students and community leaders paid tribute to actress, singer songwriter, author and goodwill ambassador Gloria Loring.
Ms. Loring learned early on about the importance of providing the tools for music education from her father trumpet player Buzzy Goff who played with the Tommy Dorsey Orchestra.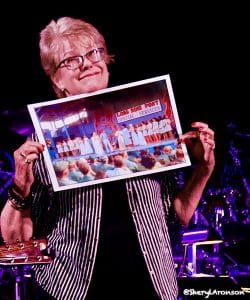 Listed in Who's Who in America, the longtime Lake Arrowhead resident was honored during the concert for her personal charitable giving and dedication to music appreciation and education in the Lake Arrowhead community and in Rim of the World District schools.
In recognition of Ms. Loring's dedication to providing access to music education in local schools, the Blue Jay Jazz Foundation (BJJF) announced the Gloria Loring Award for Vocal Achievement. The annual $1,000 scholarship recognizes and provides training and education to a mountain voice student of extraordinary promise.
Loring's musical roots date back more than 100 years as her family boasts five generations of musicians and band leaders. Christmas Day 1970, she performed for U.S. troops with the Bob Hope Show from Long Binh, Vietnam. Her son, singer-songwriter, Robin Thicke, carries on the tradition as a fifth-generation musical success.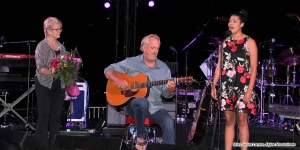 A few years back, Ms. Loring came to the rescue of our local Rim of the World High School music program when she secured a new drum set from Drum Workshop Oxnard after an urgent appeal by the band drummer Blaze Peterson. He described the school's well-worn drums as "held together by duct tape and a prayer."
That year she produced and performed in a sold-out fundraising concert to benefit the Blue Jay Jazz Foundation's Give an Instrument: Inspire a Musician program. In 2018, she created and produced a second fundraising concert at the Lake Arrowhead Resort.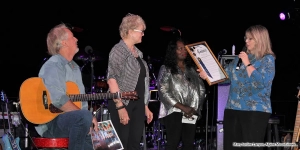 In 2016 she obtained the donation of a classic Gibson guitar from Canadian Music Hall of Fame singer-songwriter Jann Arden. Recently, Ms. Loring's kindness and generosity were extended again by donating professional music stands and replacing the high school band's failing sole guitar amplifier.
"When schools don't have the budget," Loring said, "the community can be there to identify the need, step in and do something about it."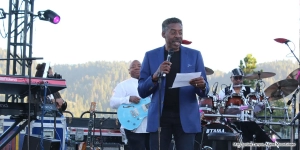 "The BJJF recognizes that many of its outreach music education programs would not be possible without the goodwill of people like Gloria Loring, who help support and lend their expertise to the organization's mission," said Chris Levister, president of the Blue Jay Jazz Foundation.
"We are thrilled to honor and celebrate Gloria's music education advocacy and passion for lifting people up," said Levister. "She knows firsthand exposing young people to music and the arts at an early age can change lives. Her commitment to providing critical resources help create a world where every kid has a channel for self-expression where they can learn more about the arts, as well as nourish their talent and soul."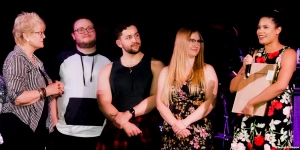 Ms. Loring is best known for her 1986 pop hit Friends and Lovers, her 7-year run as Liz Chandler on daytime TV's Days of Our Lives, and as the co-writer of the iconic theme song for The Facts of Life.
She resides in Lake Arrowhead with her husband Emmy Award-winning production designer, René Lagler. She received a Lifetime Commitment Award from Juvenile Diabetes Research Foundation International in 1999, and in the same year was given the Woman of Achievement Award from the Miss America Organization. She has also written several books with proceeds going to diabetes research. Her interest in helping families living with juvenile diabetes was the result of her son Brennan's diagnosis at age 4.
Donate to the Gloria Loring Scholarship for Vocal Achievement at bluejayjazz.org or email info@bluejayjazz.org.  For more information call (909) 227-7293.