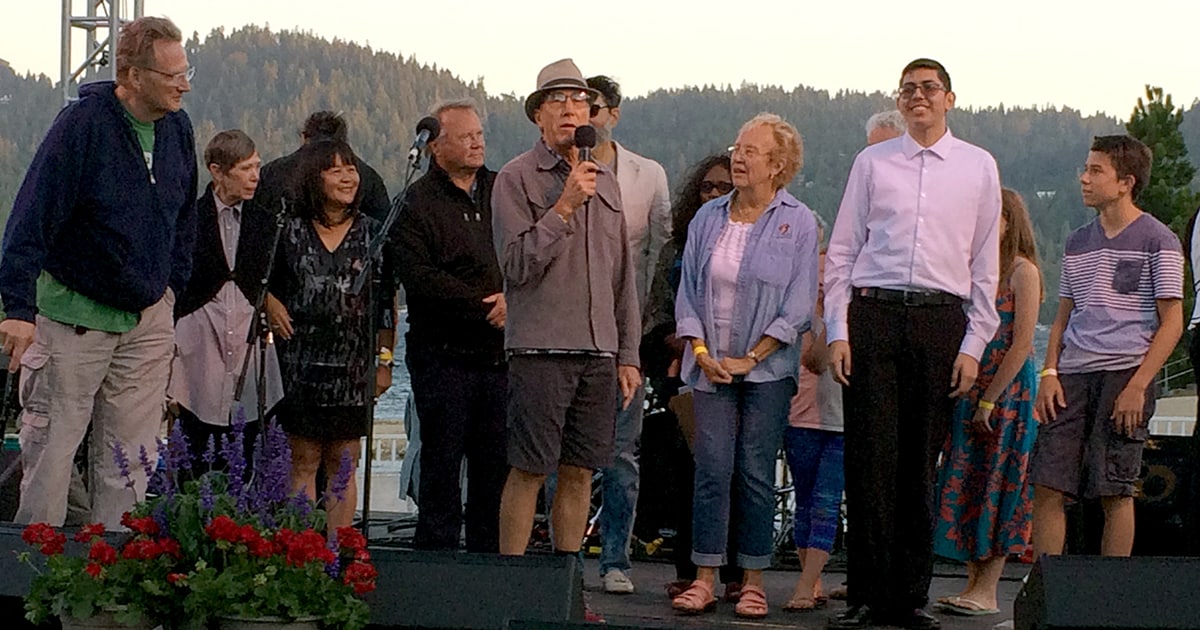 Welcome to Blue Jay Jazz!
It's hard to believe that it has been almost 30 years since bandleader Tommy Newsom and members of the famed NBC Tonight Show Orchestra headlined our first official jazz concert in a Blue Jay parking lot!
The Annual Blue Jay Jazz Festival has grown considerably, each year working to present jazz legends alongside next-generation stars.
In 2019 we enjoyed an historic leap forward with our first three-consecutive-day Festival, our first two-location concert series, and the first time our stages were on the shores of Lake Arrowhead.
Non-profit organizations like the Blue Jay Jazz Foundation provide their services, whether for education, arts, or wellness and health care, without community support. The 2020 Foundation Fundraising campaign are launching our 20th Anniversary Festival, coincidentally in 2020! We hope all our Mountain Community businesses and residents will help us make our upcoming Festival an even bigger success and help us attract music lovers from across the region to discover the wonderful amenities of our communities.
JOIN OUR BAND
There is a part for everyone to play. You can help support the programs of the Blue Jay Jazz Foundation – from its annual Blue Jay Jazz Festival to its year-round instrument lending program and scholarships for students. Financial support is welcome through donations. To make a tax-free donation to the Blue Jay Jazz Foundation, click here to email us with questions, or simply download our printable, mail-in contribution form.
Every dollar we receive will be put to good use. Entirely run by its volunteer board, there is no paid staff. So every dollar goes to the programs and Festival operations.
And be sure to engage with us on our social media platforms, available at the bottom of each webpage.
Thank you!
Chris Levister
President
Blue Jay Jazz Foundation
---
Top photo: Blue Jay Jazz Foundation Board Member Dr. Hugh Bialecki, center, surrounded by board members and community supporters introduces Uriel Ponce and Ryan Whitty (far right), two of the year's Scholarship Winners on opening night of the 2019 Blue Jay Jazz Festival.
BLUE JAY JAZZ
2019 FESTIVAL
ACKNOWLEDGMENTS
Lynne B. Wilson & Associates
Jensen's Finest Foods
Wheeler Steffen Sotheby's International Realty
Rotary Club of Lake Arrowhead
Soroptimist International Rim of the World
Ed & Midge Reisman
Richard Nevins, Esq.
Fischle Instant Printing
Coldwell Banker Skyridge Realty
Four Seasons Garden Center
The Mountain News
Adrianna Marie Hansen/L.A. Jones
Stewart Undem
Robert Knop
The Lake House
Prime Properties
Dave Nygren
Michael Kahrs
Arrowhead Lake Association
The Alpine Mountainer
BSA Troop 2019, BSA Troop 251
Dr. Kyi Kyi Win
George Whitty
UCLA Bruin Woods
Ric Fratus
L.A. Jazz Society
Rim of the World Education Foundation
Laura Litton MacFarlane
Linda Tyer
Linda & Keith Martin
Lake Arrowhead Communities Chamber of Commerce
Dr. Hugh A. Bialecki
Lori Semeniuk
Dan & Jeanne Parker
Dr. Ernest C. Levister
Christine Levister
Dave Bennett Construction
ROTWNEWS