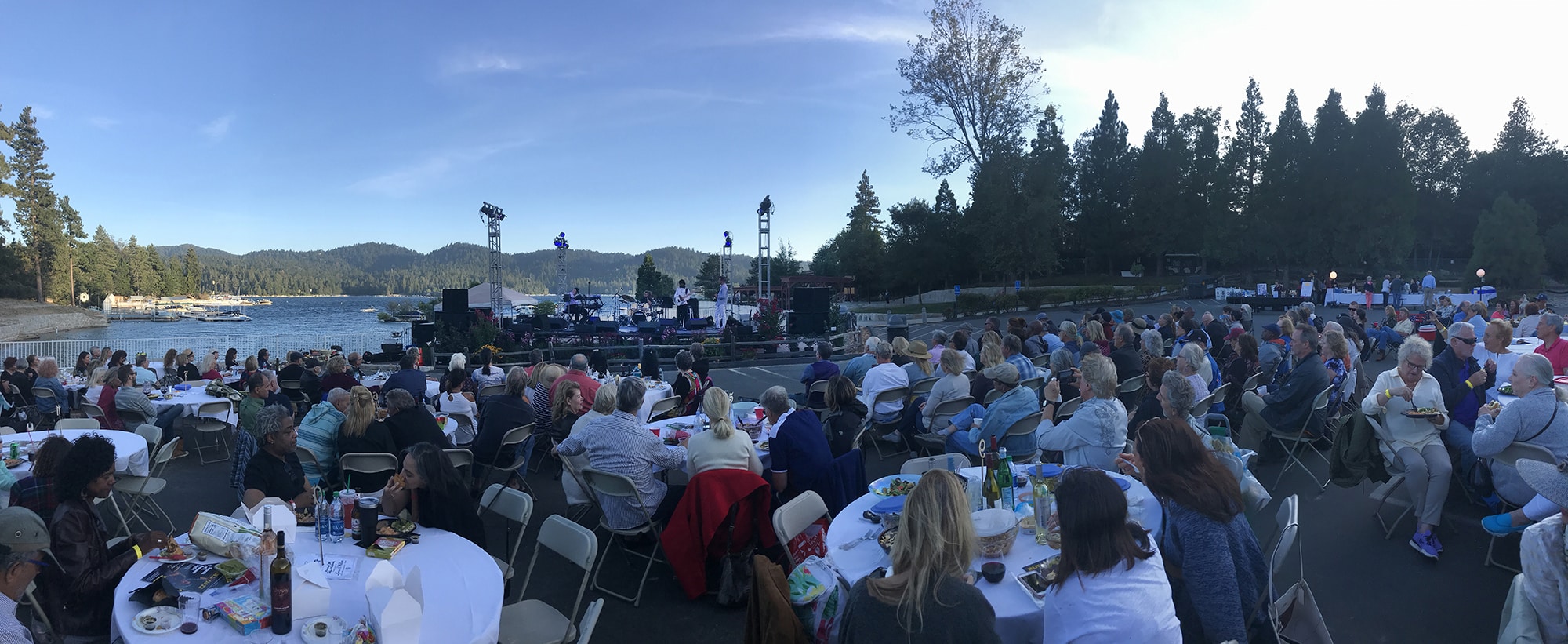 Hundreds of San Bernardino Mountain residents and scores of jazz lovers from 'down the hill' helped create mountain music history with the 2019 Blue Jay Jazz Festival.
"The Blue Jay Jazz Foundation outdid itself this year with a three-day jazz festival that topped the charts," raved Alpine Mountaineer Editor Mary-Justine Lanyon.
Several innovations made the difference. For the first time in its 19 years, the Festival took place over three consecutive days, in two locations, and in both cases with Lake Arrowhead as an adjacent backdrop. Dubbed "Festival 2019: Takin' it Lakeside" in honor of its locales, the Jazz Festival opened on the evening of Thursday, August 22 at Arrowhead Lake Association's Tavern Bay Beach Club, was back there on Friday, August 23, and then moved to the Lake Arrowhead Resort and Spa's pool deck for a brunch concert on Saturday, August 24 beginning at 11 a.m.
On Thursday, the Cal State University San Bernardino Jazz Ensemble, an award-winning Big Band with a stunning vocalist, performed a wide range of Latin jazz, vocal jazz, blues, and of course Big Band. Between the CSUSB group's two sets, the nationally renowned LA Jones Quartet featuring singer-bassist Adrianna Marie, played blues-oriented jazz.
On Friday evening, Tavern Bay resounded with Grammy Award-winning saxophonist Eric Marienthal and his quartet featuring keyboardist Mitch Forman, bassist Andre Berry, and drummer Joel Taylor. This marked the Blue Jay Jazz Festival debut for Marienthal, who not only arrived a day early to conduct a Master Class at Rim of the World High School, he sat in with the Cal State Jazz Ensemble for its entire Thursday night set.
Eric [Marienthal] is amazing! And I get to enjoy this level of performance right here in Lake Arrowhead! – Karen Grant, Lake Arrowhead homeowner and musician, Mountain News, August 29, 2019.
Read our Festival Magazine profile of Eric Marienthal posted here.
On Saturday, nearly 100 jazz fans and friends gathered on the Resort patio for the Yuko Mabuchi Trio, a piano trio featuring the rising international star along with bassist Del Atkins and drummer Bobby Breton.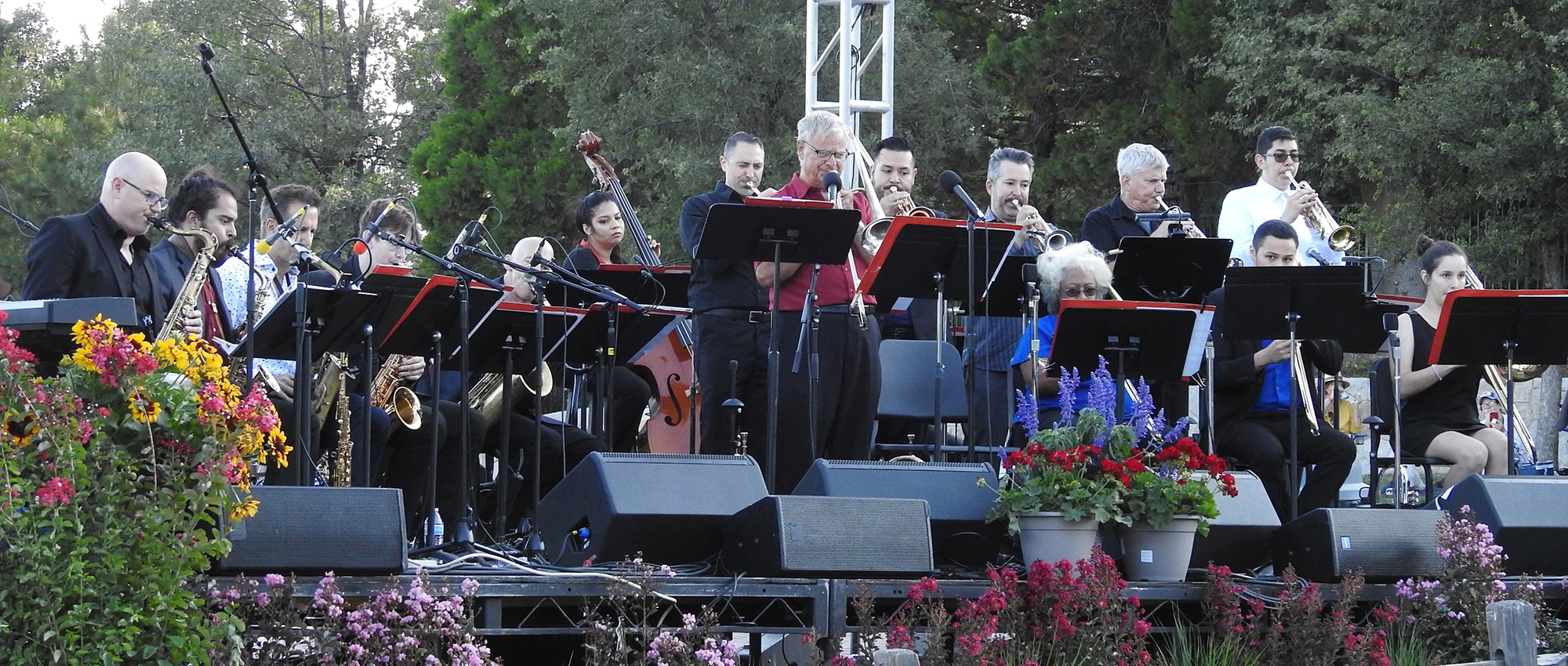 Cal State San Bernardino University Jazz Ensemble
Two-time Grammy Award-winner Eric Marienthal began his professional career with famed New Orleans trumpeter Al Hirt before joining the Chick Corea Elektric Band. The six CDs he recorded with that historic jazz-fusion group brought him two of his seven Grammy Award nominations. He has had nine songs on the National Contemporary Jazz Radio Top Ten, including three at #1.
Marienthal has performed in more than 80 countries, recorded 14 solo CDs, played on hundreds of records, films, television shows and commercial jingles, and played with scores of artists including Elton John, Barbra Streisand, Billy Joel, Stevie Wonder, Dionne Warwick, Burt Bacharach, George Duke, David Benoit, The Rippingtons, Lou Rawls, The Yellowjackets, and B.B. King.
Committed to music education, he regularly includes a master class for high school students in cities where he performs. Currently heading the online saxophone school at ArtistWorks.com, his credits include several instructional books and videos. The two decades of fundraising concerts he has organized for High Hopes, an Orange County non-profit assisting people who have suffered traumatic head injuries, have raised well over $2 million.
Sacramento-born Marienthal grew up in Southern California before attending Berklee College of Music in Boston. He achieved that school's highest proficiency rating and later earned the Berklee Distinguished Alumnus Award for outstanding achievements in contemporary music. As a teenager, he led numerous bands, performing across the region including at Trails, the Blue Jay restaurant-bar where his mother was a part owner.
Read more about Eric Marienthal on his website.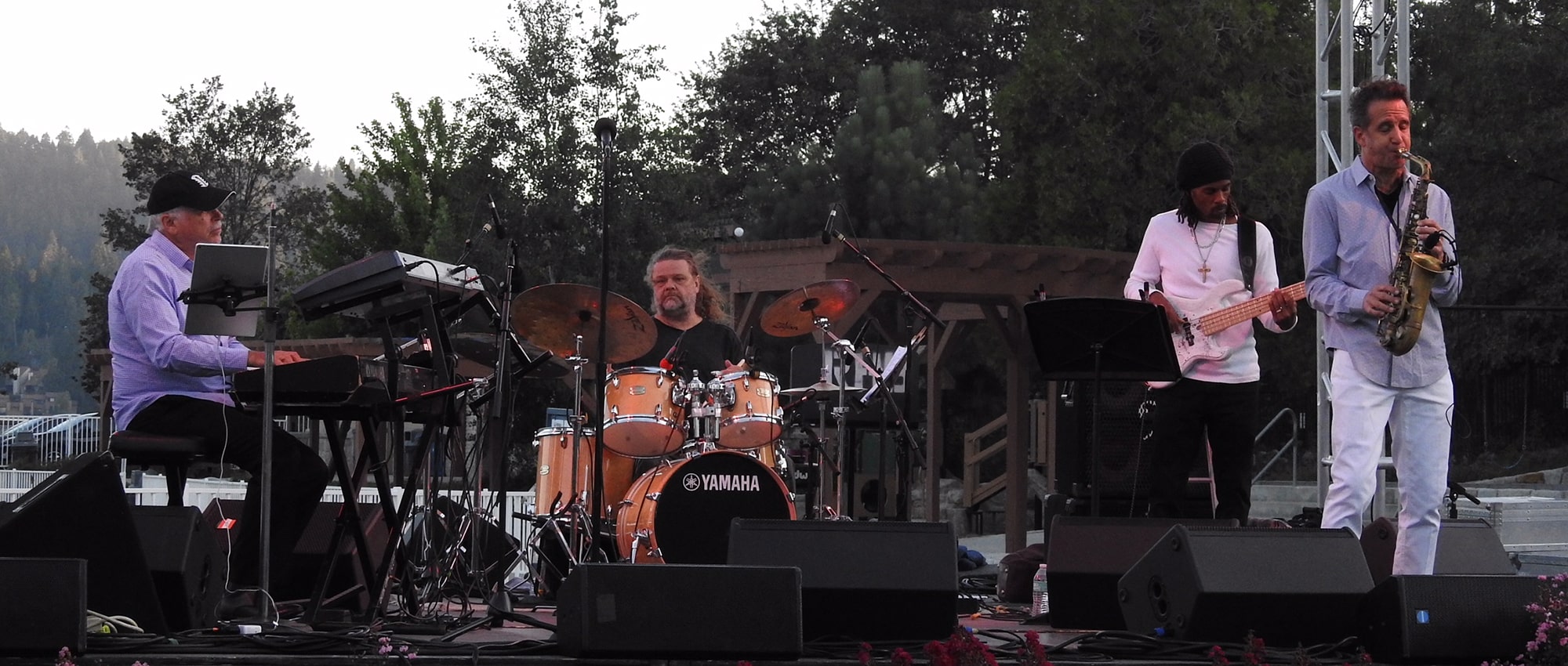 Eric Marienthal Quartet at Tavern Bay, August 23 Photo by Hugh Bialecki
Under the direction of Dr. Robert Knop, the high-energy CSUSB Jazz Ensemble performs jazz styles including swing, funk, Latin, vocal jazz, and ballads. They have appeared at regional jazz festivals including the Western States Jazz Festival, Reno Jazz Festival, and the Oceanside Jazz Festival. On-campus performances have included the annual "Swing Nite," "Latin Nite," and CSUSB JAZZFEST in which they shared the bill with guest artists Peter Erskine, Manhattan Transfer, Poncho Sanchez, Bobby Rodriguez, and many more.
The LA Jones Quartet features Handy Award-winner LA Jones, pioneer of a left-handed blues guitar style that blends Texas jump swing with West Coast traditions while remaining deeply rooted in 1950s Chicago Blues. Joining Jones on vocals is Blues Music Award-nominated Adrianna Marie on upright bass, with San Diego-based pocket drummer Marcus Bashore and saxophonist Jerry Donato, a Phoenix-based session musician known for torrid sax swipes and Texas gutbucket honk.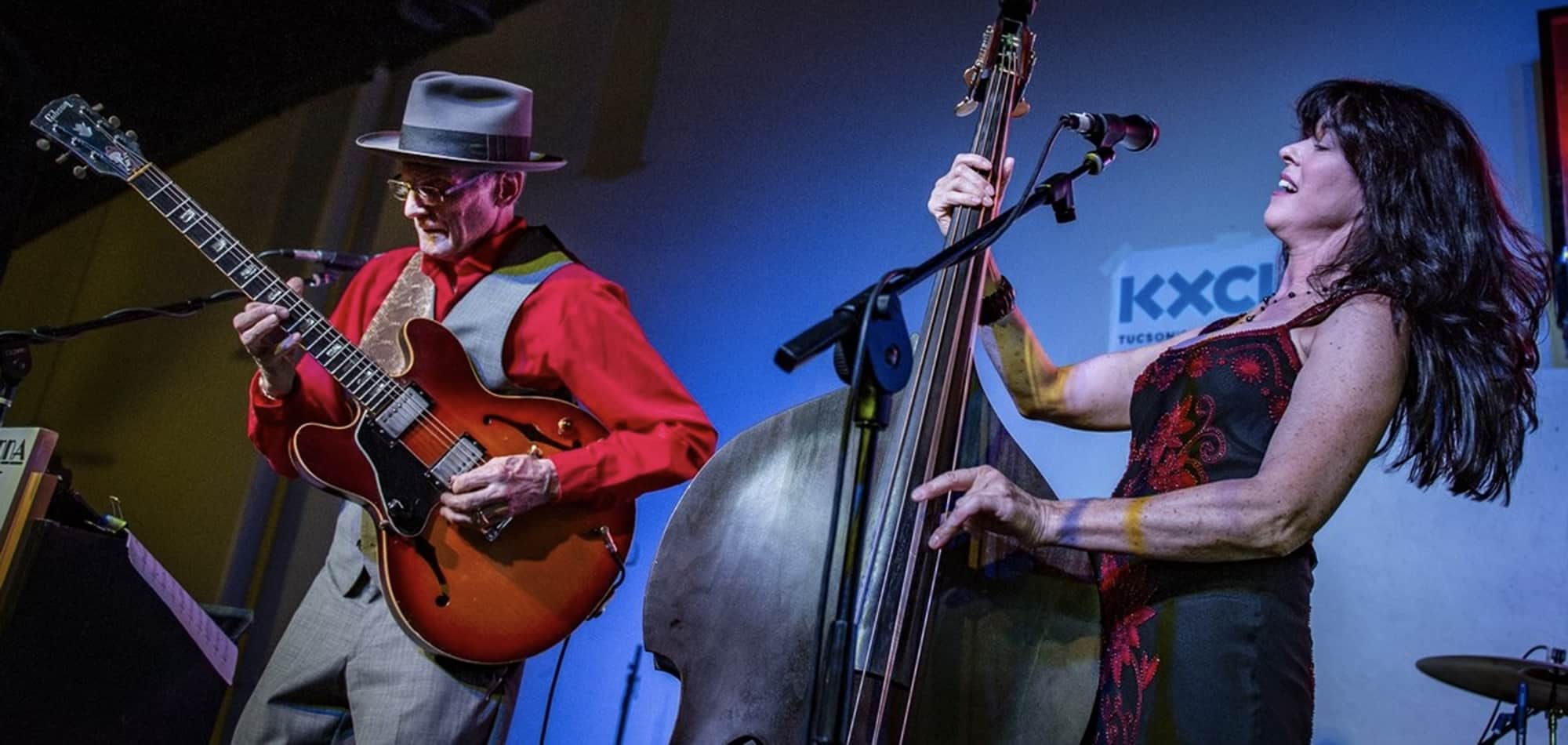 LA Jones and Adrianna Marie Photo by Marilyn Stringer
Yuko Mabuchi Trio performing on the pool deck of Lake Arrowhead Resort and Spa
The Yuko Mabuchi Trio, which also includes bassist Del Atkins and drummer Bob Breton, has performed at Segerstrom Center for the Arts, opening for Branford Marsalis; Blues Alley in Washington DC as a guest of the National Cherry Blossom Japanese Jazz series; and the Walt Disney Concert Hall to name a few. Mabuchi started playing classical piano at age 4 in her hometown of Fukui, Japan, but eventually fell in love with jazz and after high school began studying jazz piano. In 2010 she arrived in Los Angeles to further her studies and perform at some of L.A.'s top venues. Her recordings include Waves in 2011 and My Life in 2014, both on Vista Records, and The Yuko Mabuchi Trio in 2017 (recorded LIVE at USCs Cammilleri Hall) and Tribute To Miles in 2019, both on Yarlung Records. For more information visit the Yuko Mabuchi website.