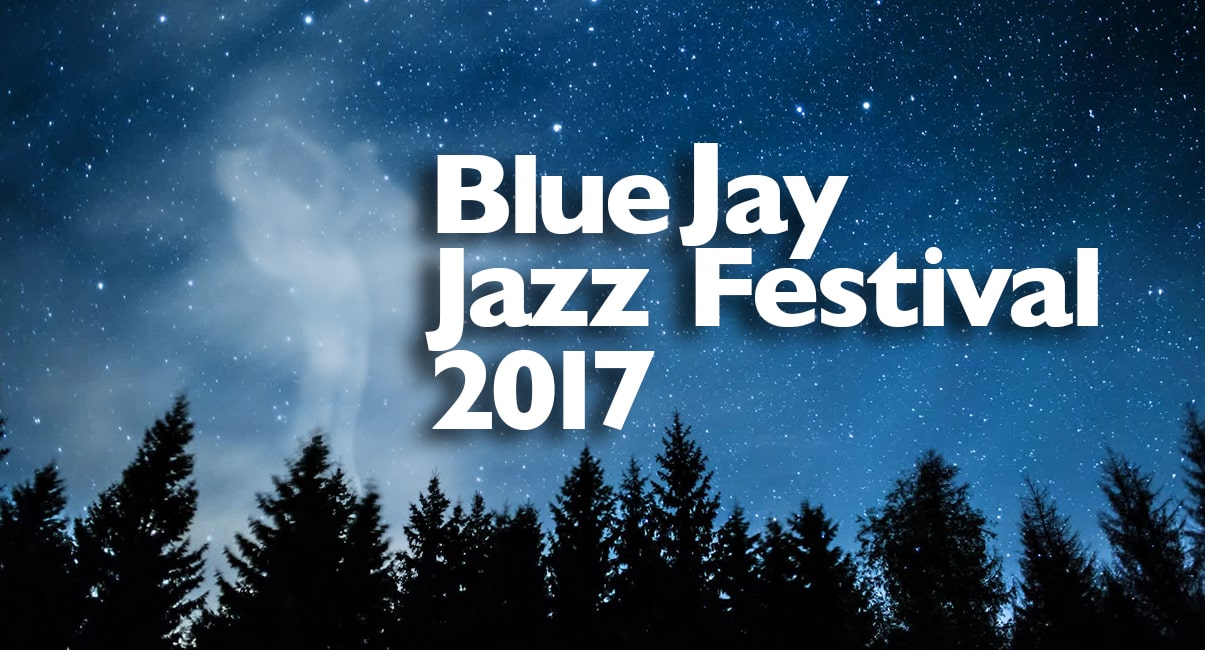 The 18th Annual Blue Jay Jazz Festival, August 10, 17 and 24, 2017, brought change to the mountain communities' major music event of the summer. The musicians and merrymakers moved to SkyPark Santa's Village, which reopened the previous December east of Blue Jay in SkyForest after extensive renovation.
It was a landmark move for the Festival and the Blue Jay Jazz Foundation that produces the annual event as part of its annual efforts to promote jazz performance and music education. The entertainment and dining destination, which had brought new energy to San Bernardino Mountains locals and visitors, was a picturesque and invigorating setting for the concert series.
The 2017 Blue Jay Jazz Festival, featuring internationally acclaimed performers from blues, soul and funk as well as jazz, opened on Thursday, August 10 with The King Brothers blues band, featuring Sam and Lee King. Greg Adams and East Bay Soul followed on August 17, with Adrianna Marie and her Groovecutters bringing the series to a rousing conclusion on August 24. Rim of the World High School Jazz Band opened the final evening.
The festival has become a cherished part of summer entertainment for residents of the San Bernardino Mountain communities as well as music fans in the Inland Empire and Los Angeles and Orange Counties. In the early 2000s it was briefly held in the meadow adjacent to Santa's Village. During the nearly 20 years in which the park was closed, the concert series' home was the parking lot above the Rite-Aid in Blue Jay.
"It has been extremely gratifying to see this project come together," Chris Levister, President the Blue Jay Jazz Foundation, had said in announcing the move. "We are thrilled to return to SkyPark at Santa's Village and be a part of its historic rebirth."
"Moving to SkyPark will create a bigger, better showcase for the local and student musicians who perform on the final day," said Foundation Vice President Hugh Bialecki. "This will help raise awareness and funding support for the Foundation's work providing scholarships and free instruments for young people in our community's middle and high school jazz bands."
The King Brothers got the 2017 Festival off to a rousing start with their unique brand of blues, which they first brought to Festival audiences in 2007. Raised in the Bay Area city of Richmond, drummer Sam and guitarist-vocalist Lee have a style that establishes new standards of blues while staying true to a solid blues tradition. They have played, toured and recorded with such blues legends as their cousin Freddie King and their Rock and Roll Hall of Fame "adopted uncle," Albert King. Their most recent CD, Get up and Shake It, follows 1997's Turnin' Up the Heat and Mo Heat, released in 2001. The All About Jazz website said of their music, "This is blues played the way it should be."
Greg Adams and East Bay Soul took the SkyPark stage on Thursday, August 17. Adams, who first appeared at the Blue Jay Jazz Festival in 2004, is among America's most admired trumpet players. Before releasing his first solo album, the chart-topping Hidden Agenda, in 1995, Adams was a founding member of the legendary Tower of Power, where he performed and arranged on 14 TOP recordings. Today his horn-powered band, East Bay Soul, is an established force across genres, including jazz, pop, rock, R&B, soul and funk. In addition to his work with Tower of Power, the Grammy- and Emmy-nominated Adams arranged, performed and recorded with Wilson Pickett, Rod Stewart, Lyle Lovett, Luther Vandross, Aaron Neville, The Brothers Johnson, Al Green, Quincy Jones, B.B. King, Ray Charles, and The Rolling Stones among others. His That's Life release features horn-fueled and orchestrated vintage soul and pop.
Adrianna Marie and her Groovecutters made its Blue Jay Jazz Festival debut on August 24. Leading the group, fresh from a triumphant appearance at the Doheny Blues Festival, is a singer born into American jazz, blues, folk and roots music. Adrianna's parents were part of the '60s folk group The Carol Lee Singers, and as a child she learned the power of music while on tour with them. By the age of 10 she was performing in summer stock in New England. Then, at 17, she headed to California "with nothing but her guitar and a desire to experience the world that had been calling her all her life." Her eclectic blend of folk, jazz and blues-infused vocals helped earn her blues debut, Double Crossing Blues, award nominations from both The Blues Foundation and Blues Blast Magazine. Blues Blast was quick to endorse her sophomore effort, this year's Kingdom of Swing, which features her sultry, sassy versions of classics as well as originals. The magazine called it a "dazzling follow-up of jump, swing and traditional small combo blues."
The Blue Jay Jazz Foundation (BJJF), which produces the annual Blue Jay Jazz Festival, is a nonprofit 501c3 organization founded in 2007. Its mission is to support music education in the San Bernardino Mountain communities and, while nurturing new generations of musicians, build interest and expand audiences for jazz as both art and entertainment. With steady support from individuals and businesses in its community, it maintains several year-round programs, including the 'Adopt an Instrument' lending program that accepts donated musical instruments, refurbishes them if necessary, and provides them free to local students. The Foundation is managed by a volunteer board of directors.
---
Top: The King Brothers perform on August 10, 2017 at SkyPark to kick off the 2017 Blue Jay Jazz Festival. Above: The Rim High School Marching Band kicks off the final evening, August 24.