ABOUT US
Blue Jay Jazz Foundation
The Blue Jay Jazz Foundation
(BJJF), which produces the annual
Blue Jay Jazz Festival
, is a nonprofit 501c3 organization founded in 2007. Its mission is to build music appreciation and promote audience development to secure the future of jazz as a performing art, and support music education in the San Bernardino Mountain communities. Our
Education Programs
are designed in coordination with music directors of middle schools, high schools, and colleges and universities, including
Rim of the World High School
and
California State University San Bernardino
.Managed by a volunteer
Board of Directors
, and with steady support from individuals and businesses in its community,The Educational Programs include an
Instrument Lending Program
for students who might otherwise not be able to participate in their school music program or study at home. As part of this program, the board solicits instruments from community members who no longer need their instrument and refurbishes them if necessary to make them ready for use by students. In partnership with the
Rotary Club of Lake Arrowhead
, Blue Jay Jazz annually provides Excellence Awards to deserving high school musicians through its
Future Generations of Jazz
work.The Foundation's most visible contribution to music appreciation among the mountain community is its annual
Blue Jay Jazz Festival
. For more than a decade, the Festival was held in the parking lot above the Rite-Aid in Blue Jay. In 2017 and 2018 it was held at SkyPark Santa's Village in SkyForest, east of Lake Arrowhead. In 2019, in a historic move, concerts were held on three consecutive days in August at the
Arrowhead Lake Association's Tavern Bay Beach Club
and the
Lake Arrowhead Resort and Spa
.In 2020, due to concerns over the coronavirus pandemic, the annual Jazz Festival, scheduled for late August, was canceled.
Read More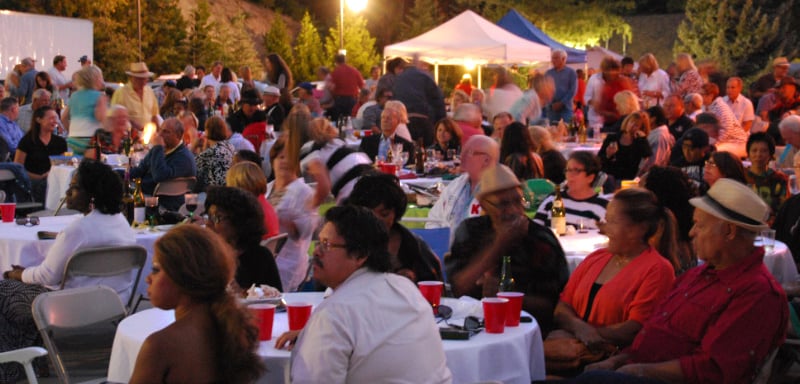 HISTORY
A firm foundation in jazz
In 1989, musician, businessman and jazz aficionado Pat Welsh, along with other local musicians, began holding weekly jazz jam sessions in the parking lot of the Royal Oak restaurant in Blue Jay.
Two years later, in April 1991, a special paid admission concert was held featuring jazz artists from NBC's Tonight Show Orchestra conducted by Tommy Newsom. It featured Conte Candoli, Snooky Young, Ross Tompins and Ed Shaugnessy.
That summer, Patti Doyle of the Arrowhead Arts Association, Dr. Hugh Bialecki of the Blue Jay Business Association, and Simon Barley of the American Jazz Symposium were instrumental creating the Summer Jazz Celebration. It offered four Thursday night concerts free to the public entirely supported by donations, grant funding and merchant sponsorship.
In 1993, the Lighthouse Jazz All Stars Reunion was produced in Blue Jay as a concert tribute to Howard Rumsey, with Shorty Rogers, Bud Shanks, Bill Perkins and Candoli.
It was in 1999 that the summer series, presented by the Blue Jay Business Association and the Arrowhead Arts Association, became the Blue Jay Jazz Festival. The Festival continued until 2005, when the Arrowhead Arts Association focused its summer events on classical music and popular music concerts.
In 2006, a group of jazz musicians, business leaders and jazz enthusiasts revived the "Jazz in Blue Jay" series, and returned to the Blue Jay venue. The following year the group formed the 501c3 non-profit Blue Jay Jazz Foundation.
Since then, the Foundation has worked to provide opportunities for the mountain community to experience jazz as entertainment as well as a tool for music education and cultural enrichment. With steady support from individuals and businesses in its community, it maintains several other year-round programs, including the 'Adopt an Instrument' lending program that accepts donated musical instruments, refurbishes them if necessary, and provides them free to local students.