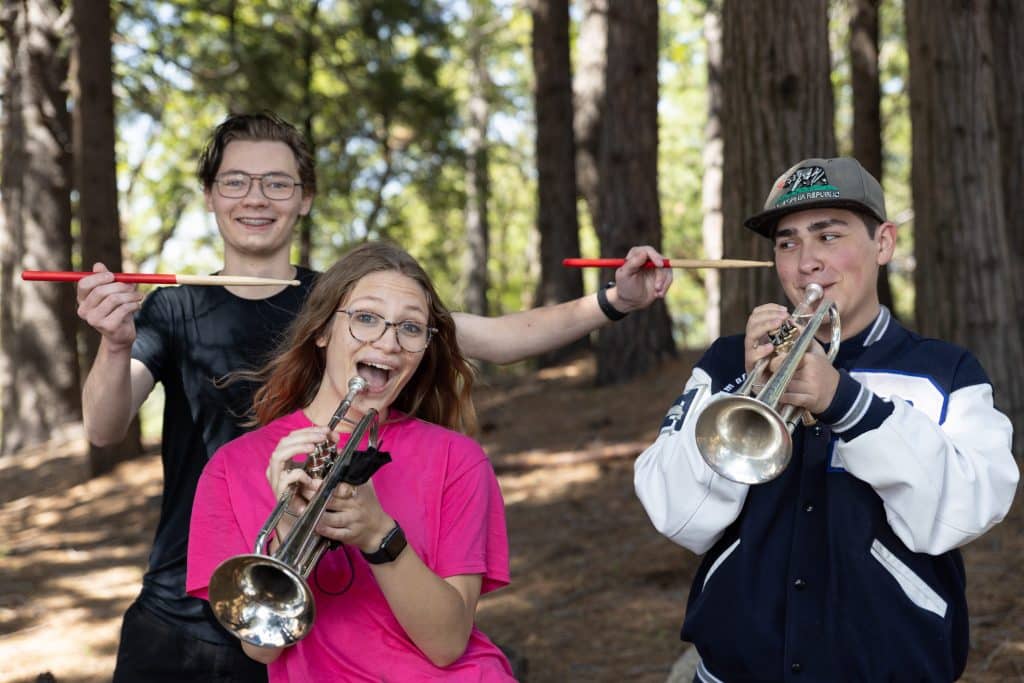 EDUCATION PROGRAMS
Future Generation Jazz Scholarships for 2021
BLUE JAY JAZZ FOUNDATION AWARDS 2021 FUTURE GENERATION JAZZ SCHOLARSHIPS TO GRADUATING RIM HIGH SENIORS
Recognizing the urgency of COVID-19's impact on students the Blue Jay Jazz Foundation in 2020-2021 redoubled its music education outreach
May 27, 2021 – The Blue Jay Jazz Foundation, a non-profit arts and education organization serving communities in Southern California's San Bernardino Mountains, today announced its 2021 Future Generation Jazz Scholarship recipients.
The three graduating seniors from Rim of the World High School were chosen with input from Rim High Music Director Kari Stebbing, for exemplary dedication to their musical instruments and commitment to the various performance ensembles in which they participated during their years in high school. In addition, the role recipients played in supporting fellow students impacted by the coronavirus pandemic abrupt school closures and forced remote learning.
The 2021 Future Generation Jazz Scholarship recipients are Veronica Young, Jonathan Angel and William Rubio. Each will receive a $1,000 check from the Blue Jay Jazz Foundation, and be invited to perform live with world class artists during the Blue Jay Jazz Festival set for August 26-27 2021 at ALA's Tavern Bay Beach Club in Lake Arrowhead.
Recognizing the urgency of the COVID-19 pandemic's impact on students, the BJJF in 2020-2021 redoubled its music education outreach by handing out more than $5,000 in scholarships (2020) plus emergency cash financial aid relief, e-technology sustainability grants, music equipment donations to local educators and music instrument rentals, repairs and replacement assistance.
"If there has ever been a time when we need to embrace bold solutions in education, especially to the challenges faced by our youth, now is the time," said BJJF President Chris Levister. "And at this critical juncture, social entrepreneurs, philanthropists, and foundations should lead by doing what we do best. 'Paying it Forward',"
The BJJF provides annual jazz education scholarships, sponsors on-campus master classes, loans musical instruments to students who would otherwise not be able to play, and produces jazz concerts that both inspire and educate.
The 2021 Future Generation Jazz Scholarship Recipients
All three recipients have excelled in academics and musicianship, and each now plans to attend college next year.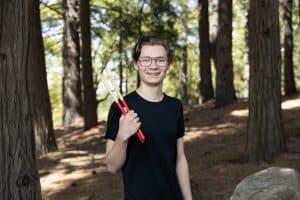 William Rubio - began playing piano in the second grade. In the fourth grade, he switched to percussion. He performed in the Disneyland Parade with members of the Rim Jazz Band. He participated in the high school Marching Band, Jazz Band and Wind Ensemble. His most memorable music experience was performing with Mountain Fifes and Drums for three years which enabled him to participate in Drummers' Call, an 18th century spring ritual of select musicians from around the country, held at Colonial Williamsburg, Virginia. William plans on attending college and majoring in physics. "Music brings us together even in the worst of times," said Rubio. He recalls the COVID 19 pandemic as a surreal life changing experience. "Some of my fellow classmates experienced mental and physical hardships. I used music as a positive force to encourage them, lift their spirits and keep them focused on graduating. I believe we all have a responsibility to help others succeed and live happy."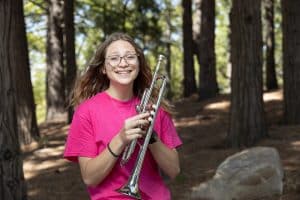 Veronica Young - is Rim of the World High School's lead jazz band trumpeter. She took up music in early 2000 as a way to express her naturally positive outlook on life. Veronica participated in drama and science clubs, Marching Band and the Jazz Band. She also enjoys playing the ukulele. She marched in the Palmdale Christmas Parade, and Blue Jay Christmas parade. She is a member of the Mt. Calvary Lutheran Church youth group. Veronica plans on attending Vanguard University in the fall where she hopes to keep music at the forefront of her studies. She says music took on a new meaning during the 2020 coronavirus pandemic. "Morale among some band members and classmates plummeted. Students were scared and many lacked technical skills, so keeping up during the remote learning phase was a huge challenge," said Veronica. "I often found myself returning to that old, old saying, "this too shall pass"." "I'd tell students, "we can do this". Our parents survived wars, floods, and fires. Surely, we can survive this time of uncertainty."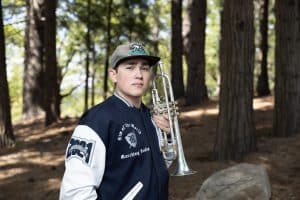 Jonathan Angel - plays the trumpet. He took up music at age twelve. As a child, he was exposed to great trumpet players like Herb Alpert, Louis Armstrong, Wynton Marsalis, Chet Baker and Alison Balsom, currently the world's most famous female trumpet player.
He participated in the Rim High Marching Band and Jazz Band. He attended Arrowbear Music Camp where he developed a love for wind instruments and a greater appreciation for jazz. Among his favorite music experiences was playing in the coveted Disneyland Parade and participating in the local Blue Jay Christmas Parade. He plans on pursuing music at Riverside City College with an eye on becoming a teacher and professional musician. Jonathan enjoys snowboarding and other outdoor sports.
"My parents taught me to always respect others and finish what I start," he said. Those lessons laid claim during the COVID 19 pandemic. "When I felt down I would play the trumpet to lift my spirits then I would go out and motivate my classmates. During remote learning, if I'm depressed or having trouble in math, I can get help. Many kids don't have that luxury. Teachers are overwhelmed and need positive reinforcement. I just want to pass along the compassion and goodwill we often take for granted."